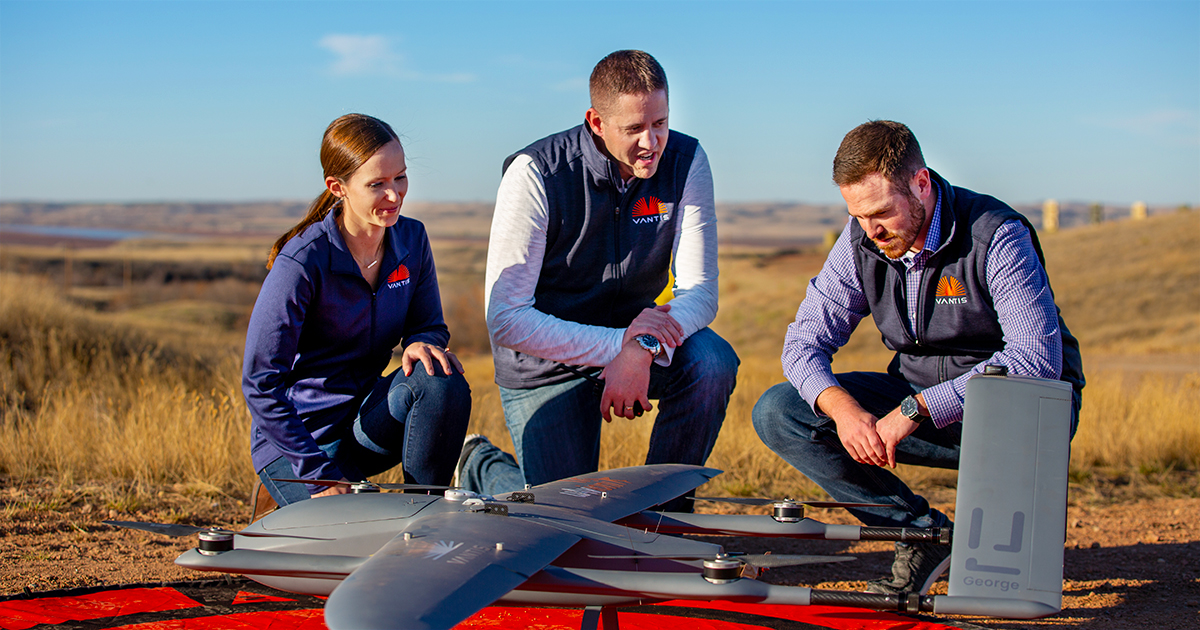 December 23, 2021
Vantis in 2021: Passing Milestones and Reaching Out
It's been a busy year for Vantis. After launching the nation's first statewide UAS network in 2020, our team has spent 2021 working on the extensive buildout within North Dakota, while connecting with the aviation community – manned and unmanned – and reaching out to the public to show the benefits of the network.
While we equipped towers in key test sites with the surveillance sensors and command and control radios that make up Vantis' remote infrastructure, we started construction of the crucial Mission and Network Operations Center (MNOC) at the Grand Sky business and aviation park.
As the command center of the entire network, the MNOC is integral to coordinating flights and ensuring safety and its location adds to the thriving UAS ecosystem already present at Grand Sky.
Commitment to and from North Dakota
Vantis' mission begins with the people of North Dakota, and the state continued its support of that, signing into law an additional $20 million investment to continue the buildout of the network. This adds on to the initial $28 million investment which helped create and develop Vantis.
Gov. Doug Burgum said: "This significant investment, supported by our administration and approved by the Legislature, sends a strong signal that we are committed to building on North Dakota's status as the nation's proving ground for UAS testing, training and commercialization.
"By continuing to build out Vantis, we will lay the groundwork for the next wave of UAS innovators and entrepreneurs, diversify our economy and benefit all North Dakotans, including those in our critical agriculture and energy sectors."
We conducted testing and validation at key sites in McKenzie and Williams counties, with the additional investment to be used to expand the technology to other areas in the state. We also had a chance to meet with the public in town halls and forums around the state, to show how UAS will integrate with the larger airspace and what the benefits of BVLOS flights will be.
"This continued investment ensures that Vantis can benefit the people and industries across North Dakota," Jim Cieplak, Vantis program manager, said. "We've established key sites on the western side of North Dakota, but this funding will allow us to begin the larger rollout of Vantis, so that North Dakotans can reap the greatest economic benefits of this technology."
In addition to installing sites, we hit other program milestones including completing developmental testing with integrators L3Harris Technologies and Thales; and performing initial operational testing in support of a Safety Risk Management Panel. The MNOC has been fully staffed during flights since November
We were fortunate to partner with uAvionix, iSight Drone Services and TrainND for a network update and demo flight at the Watford City Rough Rider Center. More than 1,000 students from local elementary and high schools were in attendance with community members and leaders.
Connecting with AUVSI and UAV Expo
A priority of 2021 was to meet with the innovators and visionaries of the unmanned systems industry. We were able to do so first via a virtual platform at AUVSI's conference in the spring, then finally in our first in-person show at AUVSI XPONENTIAL in August in Atlanta.
As a global stage for all things unmanned, the AUVSI XPONENTIAL was full of the most influential leaders in UAS, advanced air mobility and autonomy. The Northern Plains UAS Test Site, which administers Vantis, was honored to be nominated for an XCELLENCE in Innovation award for Vantis, in the company of some of prestigious names such as American Robotics, Northrop Grumman, Robotic Research and Skydio.
During an AUVSI workshop and panel discussion, our team showed how a single network benefits multiple UAS users. This single network allows advanced flight operations such as beyond visual line of sight (BVLOS) and lowers the barrier of entry for UAS operators, helping scale operations across the country.
Our team hit Las Vegas in September for Commercial UAV Expo Americas, exhibiting and connecting with the community, and helping to drive the industry forward. We participated in a panel on Expanded Operations, discussing the latest technology and regulations defining BVLOS operations on an industry level.
Selecting Thales as System Integrator
Attending the NBAA's Business Aviation Convention & Exhibition for the first time, we were able to make a significant announcement: We had selected Thales as our primary system integrator. Thales, a global technology leader, was one of three aviation giants providing engineering and integration services being evaluated to enable BVLOS UAS flights on Vantis.
A state selection committee made up of members from the North Dakota Department of Commerce and NPUASTS selected Thales as the long-term systems integrator for Vantis design, operations and maintenance.
"They were chosen not only because of their outstanding technical performance and innovative approach to building this system, but because they provide the best long-term value to the state," said Cieplak. "Thales shares our vision for what a partnership of this magnitude could achieve, and for Vantis as the future of the UAS industry."
Cieplak joined a panel at NBAA-BACE discussing the challenges of reaching full-scale UAS operations. He explained why we don't yet have widespread, routine package delivery and commercial drone operations, and how Vantis will help: "This is where North Dakota is stepping up, deploying UAS infrastructure similar to what states do at airports."
The Vantis team was proud to be at UAS Summit in Grand Forks, joining a panel moderated by Lt. Gov. Brent Sanford to share progress on the one-year anniversary of our launch with Thales and the NDDOT. We also celebrated Grand Sky's MT1 grand opening, where the MNOC is housed.
Looking Forward to 2022
In the next 12 months we plan to continue to educate the community, attend conferences and build out the network as operational testing continues. Our recent Request for Proposals (RFP) seeks multiple UAS to support further BVLOS testing.
As we continue to test, build and develop Vantis, we will strive to make operations easier and lower the barrier for entry for UAS operators. Thank you for your past and future support to make that a reality.