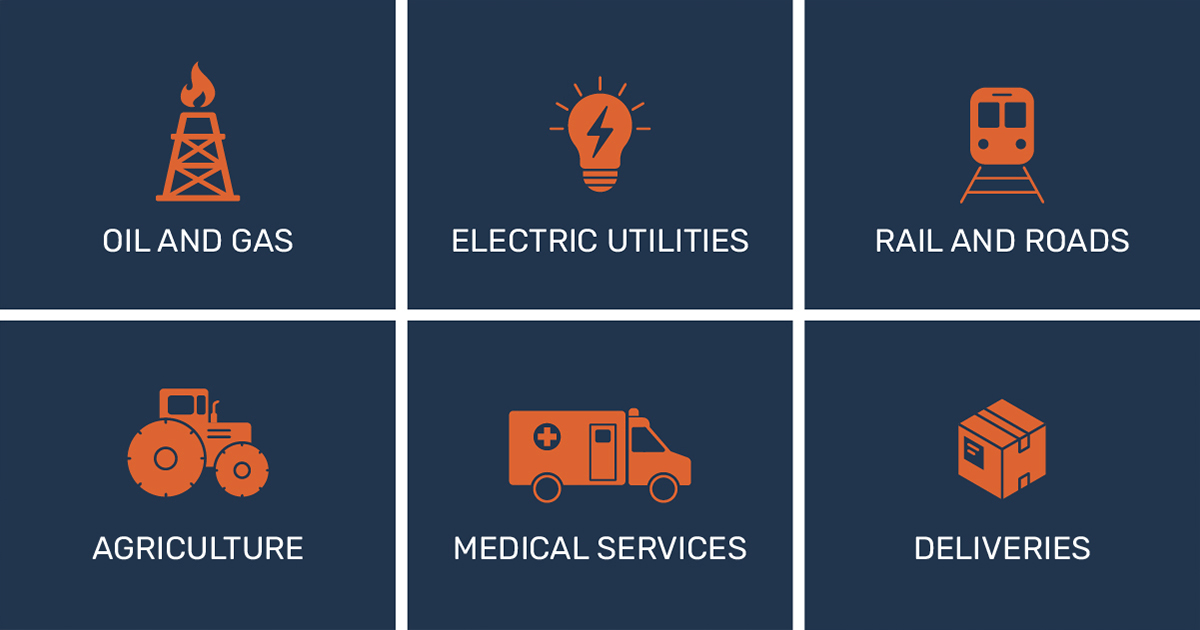 November 9, 2021
Vantis Opens Up Skies to UAS Applications
From private to public sectors, Vantis provides the launchpad to commercialization of unmanned aircraft systems (UAS). Business owners, entrepreneurs and innovators see the multiple UAS applications available to them because of Vantis.
How can traditional industries use these highways being built in the sky? What new businesses will spring to life because of them? Let's take a look.
Public Safety and Services
Consider the delivery applications available to medical services with UAS technology. An unmanned aircraft can deliver lifesaving equipment or medicine to people and providers in remote locations, reducing turnaround time for vital medical needs.
UAS can also reduce response times for first responders and increase the scope of search and rescue teams without putting additional people at risk.
Transportation and Utilities
North Dakota already relies on UAS to monitor and inspect thousands of miles of rail, roads and bridges to keep goods traveling to customers. With Vantis, other industries with far reaching infrastructures can also take advantage of the monitoring applications of UAS.
For example, UAS is the fastest method for companies and local governments to locate and assess damage to the electrical grid following severe weather. In oil and gas, operators can use UAS to collect data and inspect pipelines and wells, especially in the resource-rich and large Bakken Formation.
Business UAS Applications
Not only does UAS offer applications to local governments, public services and large-scale industries, it also provides opportunities for developing new jobs and increasing economic impact in North Dakota.
These opportunities could be outside of flying the aircraft or managing the network, existing instead in supporting data logistics or secondary industries to support UAS. For every unmanned vehicle in the air, there are operators, maintenance professionals and data processors involved. There are logistics, supply chain and sales professionals, especially in terms of UAS retail delivery.
These auxiliary jobs go with every part of the UAS community.
The advantages of and applications available using the nation's first statewide UAS network are plenty. We want people to be aware of Vantis' universal potential, from urban areas to agricultural communities.