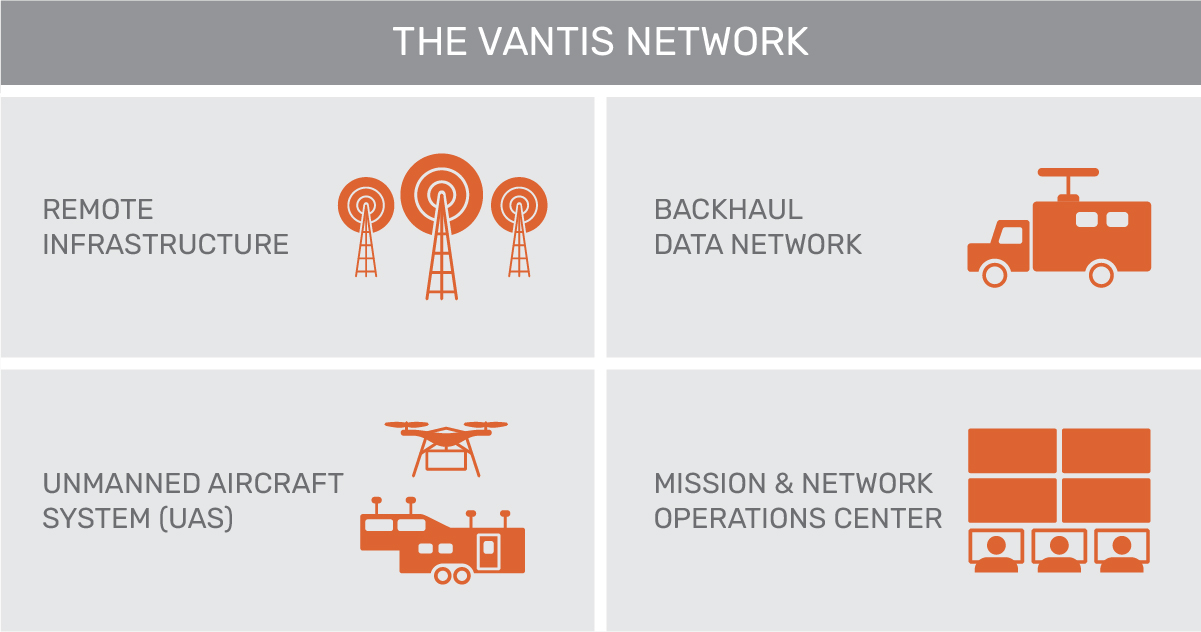 September 20, 2021
Vantis Takes UAS Technology Beyond Visual Line of Sight
The unmanned aircraft systems (UAS) technology Vantis is developing takes the same approach as manned aircraft systems.
When you fly commercially, aircraft transport you from one airport to another. It's the infrastructure on the ground – the radar, the air traffic control, the operations center – that make that flight possible. All help manage the sky so that commercial planes, business jets and general aviation aircraft can fly safely and seamlessly throughout the national airspace.
The Vantis network will allow unmanned aircraft to safely, efficiently and more productively use airspace by building the infrastructure and obtaining approvals needed for UAS to fly beyond visual line of sight (BVLOS).
Understanding the Network
There are four key components to Vantis: the UAS, two ground components and the Mission and Network Operations Center (MNOC).
UAS represents both the aircraft – also referred to as an unmanned aerial vehicle (UAV) – and the ground control station, which pilots the craft.
The first ground component is the remote infrastructure. For Vantis, that's surveillance systems as well as command and control radios on North Dakota Department of Transportation towers and airports. It functions similarly to how devices communicate with cell towers.
Vantis' backhaul data network is the second ground component. Built on top of the state's existing fiber network, which securely manages communications for public agencies, Vantis adds another layer of security to connect data and radio communications.
The final component is the MNOC, a command center that monitors all of the components needed for an aviation-grade network. Vantis' MNOC is at Grand Sky business and aviation park, strategically located on the Grand Forks Air Force Base.
With every component, Vantis is passing a new milestone in UAS technology. From private to public sectors, Vantis provides the launchpad to commercialization. Innovators are utilizing UAS technology to increase efficiencies, enhance safety and bring new capabilities to businesses and people.