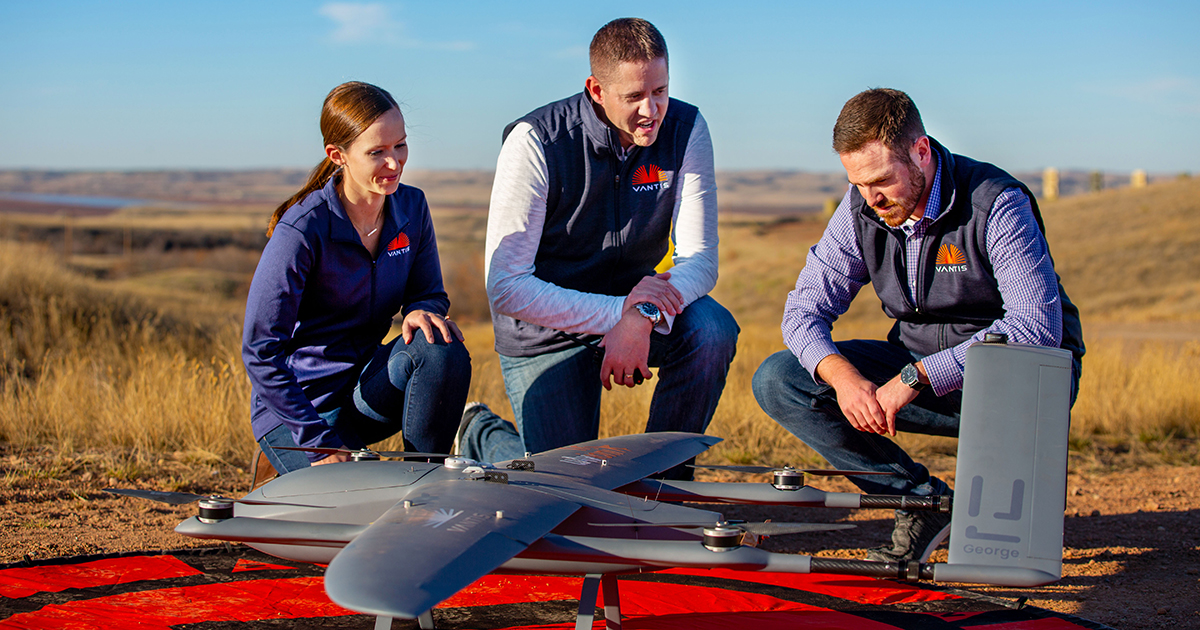 October 31, 2022
North Dakota Taking the Lead in UAS Flight
The history of North Dakota aviation is impressive. The future of North Dakota aviation is even brighter, thanks to its leadership in unmanned aircraft system (UAS) infrastructure and technology.
The Northern Plains UAS Test Site, in partnership with Thales USA, a global technology leader and air traffic management provider, is in the process of creating Vantis, the statewide UAS system that will facilitate beyond-visual-line-of-sight (BVLOS) flights across North Dakota. The program can be expanded into other states and regions, allowing commercial and innovative opportunities.
James Cieplak, our program director, recently spoke to an economic group in Minot, and shared how the system will work and what commercial possibilities will be available as Vantis takes flight.
The first point was how UAS is actually a misnomer, in terms of all of the people behind "unmanned" flying.
"It takes more men and women to fly an unmanned aircraft now per FAA regulations and rules than it does a manned aircraft," said Cieplak, who has spent a long career in implementing advanced aviation-systems technology.
As the UAS industry grows, more and more people will be employed in it, both with direct piloting on the ground, as well as support industries. Vantis will make UAS, or drone, flights possible for longer distances, as well as safely integrated with traditionally piloted aircraft.
Investing in the Future
Thales USA is the system integrator for Vantis, deploying communications and surveillance infrastructure across the state, which enables operators to pilot UAS remotely and detect other aircraft in the airspace.
When completed, Vantis will serve as a highway in the sky for UAS, opening up capabilities in a variety of industries including oil and gas or utility inspections, retail and medical deliveries, or agricultural enhancements.
The state of North Dakota has made a large investment through its legislature because it sees the economic possibilities, including uses not even envisioned yet. The state built on its decade-long history of UAS research, development, and commercialization at the NPUASTS to start the system now known as Vantis.
"This is about commerce and economic development, not just putting up infrastructure," Cieplak said.
Scalable beyond North Dakota
Positioning North Dakota the leader within the UAS industry is the goal, and the economic benefits of being first to market in this particular space. In testing and facilitating repeatable and economically viable UAS flights, Vantis is developing an economic model that is scalable beyond the state. As Vantis expands beyond North Dakota, it will be able to generate revenue from service fees that go to the state's general fund.
"We are looking at additional revenue sources from Vantis. One is the ability to put this aviation infrastructure not just here in North Dakota," Cieplak said. "All of that infrastructure can then be monitored from here, and we can actually have a fee for service for replicating this and putting it other states."
Vantis utilizes North Dakota's fiber optic infrastructure to connect test sites in Williston and Watford City to its newly opened Mission and Network Operations Center (MNOC) in Grand Forks. The MNOC just celebrated its grand opening in June and will serve as the system's heart as it expands across the state to Bismarck or Minot, and then beyond its borders.
The system has already had real-world applications, as its groundwork helped North Dakota assess and prioritize utility repairs this spring following a blizzard. By utilizing drones to inspect damage in remote and inaccessible areas, utility companies were able to restore power more quickly to residents.
In the future, what is learned and perfected with Vantis can be applied to other fields of autonomy, not just in the air. The system can be used to help public transportation or snow removal, or any number of ideas. Cieplak said the program is looking at how it could be applied to agriculture and roads, as well.
For now, every BVLOS flight stakes North Dakota's reputation as an aviation leader even further.