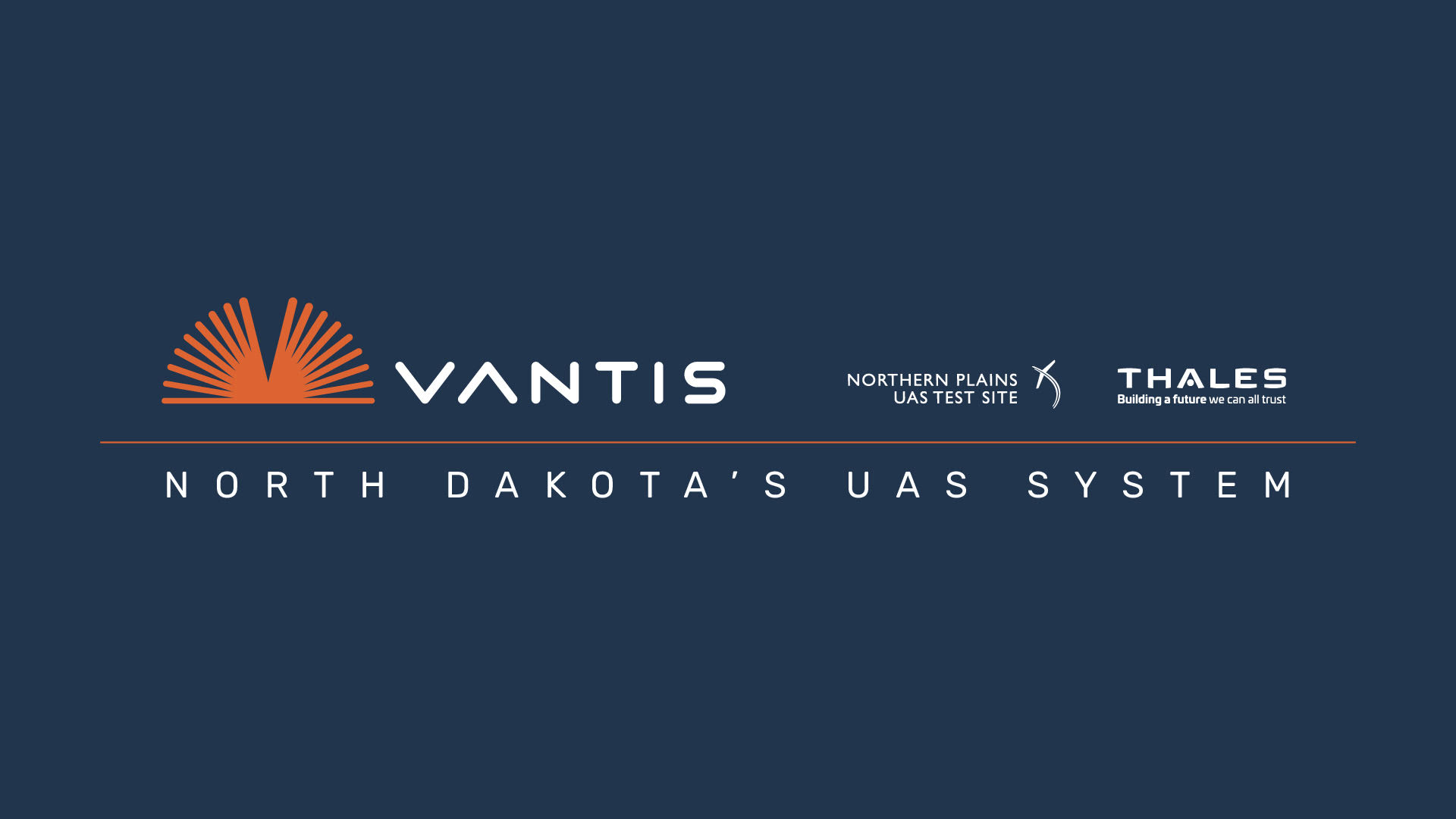 September 28, 2022
A Glimpse into a Public-Private Partnership
When the Northern Plains UAS Test Site sought out a systems integrator for Vantis, the statewide, beyond-visual-line-of-sight (BVLOS) UAS system across North Dakota, the experience and capabilities of Thales USA kept checking all the boxes.
A global technology leader, Thales platforms provide air traffic control (ATC) services across 40% of the globe's airspace, making Thales the #1 air traffic management (ATM) provider in the world. Safely integrating UAS into the national airspace within North Dakota has been a primary mission of NPUASTS and the new Vantis system. The match made perfect sense and the partnership has been built upon Thales' strengths.
Thales has invested heavily in the future of aviation, integrating the mix of right existing and new technologies to anticipate and address the demands of our evolving airspace system. In Vantis and North Dakota, Thales delivers an aviation-grade UAS integration capability designed specifically to complement manned aviation infrastructure while enhancing safety, integrity, interoperability within the airspace system.
Thales helped NPUASTS tackle the complexity of this challenge through the implementation of aviation-grade infrastructure addressing communication, navigation, surveillance and situational awareness to monitor and track UAS operations over the skies of North Dakota. Along with NPUASTS, Thales brings commercial and technical expertise to reimagine the future of commercial aviation for manned and unmanned operators. Today the epicenter of UAS integration is on display in North Dakota. Thales and the state of North Dakota are demonstrating how this unique partnership provides a roadmap for other states to explore how to deploy it.
Immediate Benefits
A recent example showcased the power of what Vantis is and will become. A late-spring snowstorm signaled for North Dakota's Governor's office to deploy UAS to survey and assess winter storm-damaged areas to facilitate and prioritize utility infrastructure repairs.
In just two days, the drones flew over 80 miles under an emergency FAA waiver and took high-resolution photos of 1,700 power line poles throughout the region. This allowed inspectors to inspect and identify nearly 150 poles in need of repair. With impassable conditions for traditional inspections rendered implausible, operators on the Vantis network used drones to get a close up look at downed power lines leading to improved logistics and reestablishment of power for thousands of North Dakotans.
Vantis' Mission and Network Operations Center (MNOC) sprung to life and was pivotal in supporting this emergency action. Imagine how these network services will provide even more reach across the state when BVLOS drone flights become routine – supporting commercial operations and emergency response.
Government and Business Coming Together
Vantis represents a true, public-private partnership. Vantis will be expanded to a larger regional and national level. By working with the FAA and federal government locally in the state, Thales and NPUASTS are showing other states how they can be proactive and innovative by implementing a similar approach in their states.
North Dakota's strong aviation history and community set the stage for successful UAS integration. The state's existing infrastructure and willingness to innovate are creating the credibility and acceptance to realize many future commercial business cases. Its welcoming business environment that the state provides makes UAS integration easier and better. Together, Thales and NPUASTS' partnership is helping others realize their UAS commercial vision.