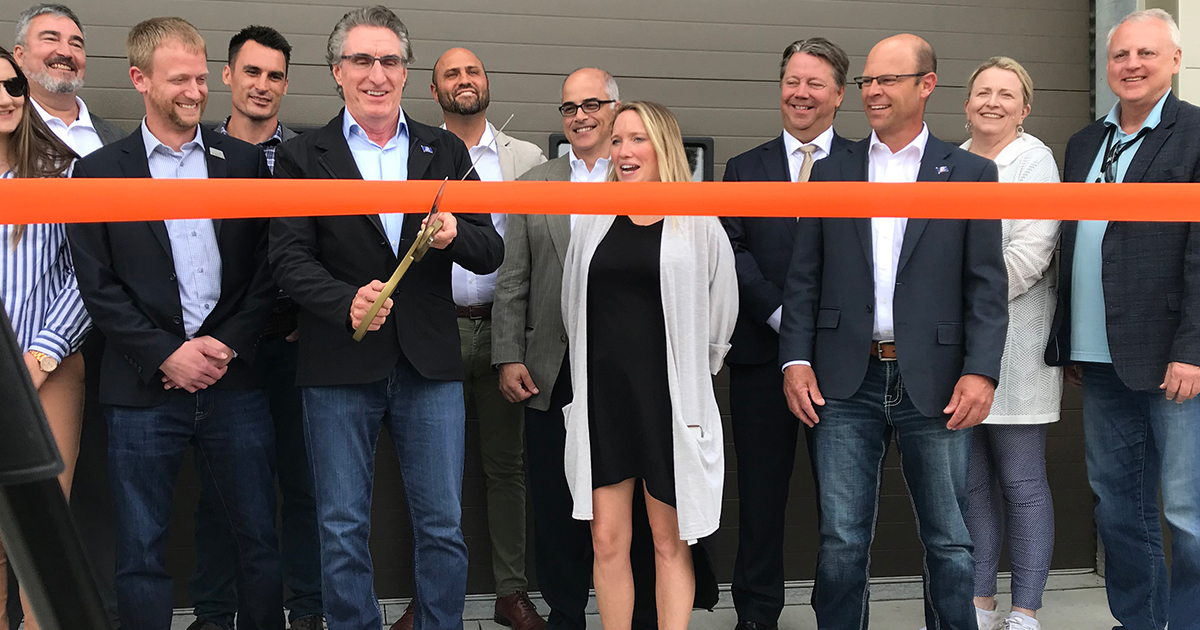 June 16, 2022
Vantis Opens Mission & Network Operations Center for Statewide UAS System
GRAND FORKS, ND – Vantis officially celebrated the grand opening of its Mission and Network Operations Center (MNOC) on Thursday at GrandSky Business and Aviation Park (GrandSky), marking a significant milestone in the development of the nation's first statewide Unmanned Aircraft Systems (UAS) system. The MNOC serves as the command center and is integral to coordinating beyond-visual-line-of-sight (BVLOS) flight.
"This is the heart of Vantis," said Trevor Woods, executive director of the Northern Plains UAS Test Site (NPUASTS), which administers Vantis. "From this location, we have the technology to monitor and control the remote infrastructure, enabling the entire operation. The MNOC will be integral to coordinating safe, repeatable BVLOS flights across North Dakota, and scalable to larger regions."
As part of the event, representatives were on hand from Vantis, NPUASTS, Thales, the FAA, the UAS industry, and North Dakota state leaders, who have provided ongoing vision and support since authorizing its creation in 2019.
"This operations center is a prime example of how North Dakota continues to invest in technology to create opportunities for citizens and businesses and diversify our economy," said Gov. Doug Burgum. "With Vantis, we're creating a platform for entrepreneurs and innovators to develop new products and for the government and private sector to offer better services to the public. Today's grand opening further cements North Dakota as a destination for UAS operations."
Attendees were invited to tour the facilities and see a static display of UAS that are flying on the system. Vantis signed a long-term agreement with GrandSky and began construction on the MNOC early last year. Simultaneously, Thales was selected as the Vantis system integrator and long-term partner to build out the system. Key site testing and validation flights have been occurring regularly in western North Dakota, in primary test sites near Williston and Watford City which have all been securely monitored at this MNOC. Vantis is working with partner Thales as it expands the buildout to include other areas of the state.
"Today marks a significant step towards the safe and efficient integration of drones into our airspace system," said Todd Donovan, vice president of Airspace Mobility Solutions for the Americas at Thales. "With the MNOC up and running, drones will deliver real-world economic and social benefits to North Dakota citizens, at scale."
About the Northern Plains UAS Test Site
The Northern Plains UAS Test Site is one of seven Federal Aviation Administration (FAA) unmanned aircraft system (UAS) test sites in the nation. The mission of the NPUASTS is to collaborate with FAA and industry partners to develop systems, rules, and procedures to safely integrate unmanned aircraft into the National Airspace System without negatively impacting existing general or commercial aviation. NPUASTS is administering Vantis.
About Vantis
Vantis is North Dakota's statewide unmanned aircraft systems (UAS) beyond visual line of sight (BVLOS) system, the first of its kind in the nation. Created by North Dakota with an initial investment in 2019, Vantis provides turnkey support to commercial and public UAS operators through infrastructure and regulatory approvals allowing applications and usability over a variety of industries. Visit VantisUAS.com for more information.
About Thales
Thales (Euronext Paris: HO) is a global high technology leader investing in digital and "deep tech" innovations –connectivity, big data, artificial intelligence, cybersecurity and quantum technology – to build a future we can all trust, which is vital to the development of our societies. The company provides solutions, services and products that help its customers – businesses, organisations and states – in the defense, aeronautics, space, transportation and digital identity and security markets to fulfil their critical missions, by placing humans at the heart of the decision-making process.
With 81,000 employees in 68 countries, Thales generated sales of €17 billion in 2020 (on a basis including Gemalto over 12 months).
In the United States, Thales has conducted significant research and development, manufacturing, and service capabilities for more than 100 years. Today, Thales is present in 22 states, operating 46 different facilities and employing nearly 4,000 people. Working closely with U.S. customers and local partners, Thales is able to meet the most complex requirements for every operating environment.