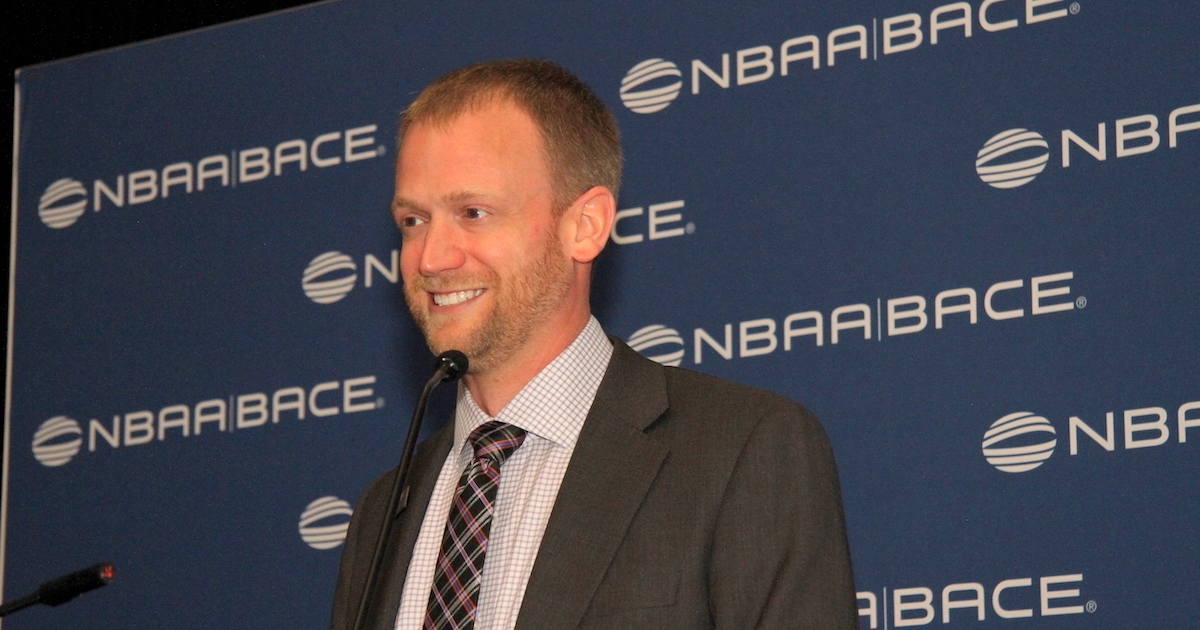 March 7, 2022
5 Questions with Executive Director Trevor Woods
Trevor Woods became the executive director of the Northern Plains UAS Test Site in January, but he's been with the Vantis team since the beginning, helping the network grow from concept to reality.
Get to know our new leader and learn how UAS has fit into a career full of aviation and discovery.
What's your background in aviation?
Trevor Woods: I grew up in the suburbs of Minnesota's Twin Cities, but I've always wanted to be in aviation. I started flying pretty early, when my dad took me to one of the local airports and we went on an exploratory flight. That kicked off my desire to get my private pilot's license. I was working all throughout high school, and any money I saved, I used to pay for my PPL. I passed my check ride shortly before I left home to come to the University of North Dakota.
UND was a natural destination to pursue the goal of being in aviation. I originally entered the program for engineering but wanted to minor in aviation. I was planning on going to the airline track right out of college, but the landscape changed while I was in school in the mid-2000s. Somehow, I was smart enough back then to decide to pursue a business degree with an aviation management focus. That allowed me to continue to get my license and credentials but approach it from the business side.
I started professionally as a flight instructor, earning hours for my own license, but that role grew into research, training and administration within the university system, and then within the Northern Plains UAS Test Site.
How does North Dakota connect with your life and shape you professionally?
TW: North Dakota turned out to be a fantastic place to stay with aviation and grow within the industry, first as a flight private instructor, then working with the university to train international students on their initial certificates. There were a lot of opportunities from flying, teaching and researching points of view. North Dakota was absolutely the epicenter of what I wanted to do, after realizing my future was part of the bigger aviation world, outside of the airlines.
And of course, I met my future wife at UND as a student there, so it's easy to make this place a home. I can't imagine being anywhere else – especially with everything we're building here and what we're able to do with this community. It's a perfect place for the mission of Vantis and the opportunities to connect with and benefit the people and businesses of the state are amazing.
What connects you with UAS?
TW: While working inside of UND, I had the opportunity to get involved with the Center for UAS Research, Education and Training within the Aerospace department.
At the time, the program had simulators for uncrewed systems, but they didn't have the pilots needed to use and train on them. Initially, I started to use them to help augment my own training and enter a relatively new field within aviation, but then I was asked to help others with them because of my pilot background.
They needed the perspective of pilots who were familiar with crewed aircraft, that real-world experience of how airplanes fly and how that input could factor into what they were trying to achieve and learn with UAS. I was able to contribute to the research and testing of UAS through my fixed-wing, crewed experience. In a way, it was a great lesson on the challenges of incorporating UAS into the National Air Space that we'd be working on later. You need to have the perspectives of everyone who is using the air space and the precision of the work on the infrastructure on the ground, as well.
I also started working with the public safety aspects of UAS around this time, as well. Law enforcement and government agencies started to see the possibilities for how UAS could assist citizens, and offering quick ways to assess a situation, from search and rescue to utility inspections after severe weather events.
I'm grateful to have had all of those experiences. It's helped me see how UAS is a powerful opportunity and how it fits into the larger aviation landscape.
What's the coolest part of your job?
TW: Seeing the evolution of what we've been able to do and how the public understands it. Initially when we began, I'd have a conversation with someone and try to explain it and you might see a blank look when you were talking about drones. People could only see them as a hobby activity or as a toy.
But now, we're at the center of an ecosystem and industry that's growing and evolving very rapidly. You can talk to people about real-life experiences and interactions where UAS are making a difference. For example, owners of vineyards in California using UAS to manage wine production. You can point to the actual tangible product that's enhanced.
Or people will see a story or a press announcement about something UAS-related in national security or public safety. Now, we can say, yes, that's us. We're doing the things that help fly that plane. It's exciting to be at the forefront of something that will have a big impact on peoples' lives. I'm eager to see how it grows from here and what the next steps are. It's amazing to think of how far we've already come.
What would people be surprised to know about you?
Like many people, I developed a hobby during the last couple of years. I have really gotten into woodworking, although I'm by no means an expert at it. I've managed to build a playset for my girls completely from hand. I enjoy learning about the process and it's just great to be able to build something. Probably not a coincidence.